Reply
Topic Options
Mark Topic as New

Mark Topic as Read

Float this Topic for Current User

Bookmark

Subscribe to Topic
Level 6 Contributor
What will Partners Build to support Homo Deus
I just finished two books that Bill Gates recommended on his Annual Summer Reading List.
Sapiens and Homo Deus ... both by Yuval Noah Harari.
Have you read them?
What did you think?
Below is my review of Homo Deus. But, before that ... I think there is a significant partner opportunity that can come from these books. Yes, taken at face value these books indicate a future that will be fraught with changes. But, this is where partners excel.
For example, there will be a need to track, manage, and act upon the data coming from IoT devices. Also, there will be people involved as the initial Artifical Intelligence (AI) and Machine Learning (ML) efforts are kicked off. Again, this is where partners excel. Also, ala the book (and soon to be Steven Spielberg movie) Ready Player One there will be fully immersive Virtual Reality scenarios being developed to "entertain" and perhaps employ the humans of today (homo sapies). Currently, Microsoft doesn't have a big footprint in VR, but this can and will change. And, partners will be at the forefront. In the meantime, the Mixed Reality (MR) / Augmented Reality (AR) space is being filled with Microsoft Hololens. Both the VR and MR spaces will provide a lot of opportunity for partners.
What will you build first? How will you decide? The upside is ... Partners Have a SIGNIFICANT OPPORTUNITY.
Homo Deus and Sapiens … Inspired by Bill Gates
Originally published here
I just finished these two books based on a recommendation from Bill Gates.
Every year Bill Gates puts out his Summer Reading list. (click2tweet) This year his list included "Homo Deus" by Yuval Noah Harari. Which is a follow on to his previous book "Sapiens" which was equally amazing and mind opening.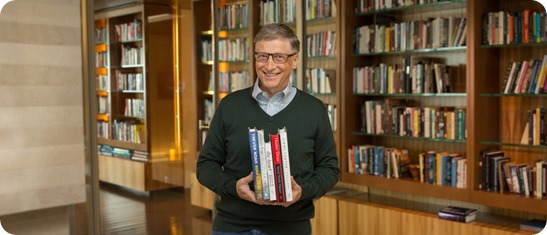 I tore through Sapiens first and then Homo Deus. Wow! They really get you thinking. There have been excellent reviews of both books. One of them was by Bill Gates himself. I cannot and do not want to compete with their very well thought out reviews. You can see them for yourself at the links below.
However, I do have a few thoughts. Some were covered in the reviews by others, but like with everything we do we bring our own perspective.
My Key Takeaways
There were so many great ideas and thinking points in both books that I could spend a lot of time parsing my own notes. But, I've decided to do two things.
Let you read or listen to these books yourself. And,
Let the already excellent reviews speak for themselves. Read them and read the books. Then, write your own review. I'd like to hear your thoughts. Here is the review by

Bill Gates

and another by

The Guardian. Both are excellent summaries and offer their takeaways. Mine are below.
My Four Top Takeaways: (click2tweet)
History is worth studying
The Future will arrive whether you want it to or not
Work is Changing – Think automation and robots
Homo Deus is almost a certainty
On History …
"Those who do not learn history are doomed to repeat it."
~ George Santayana (click2tweet)
On the Future …
It is inevitable. Tomorrow will come whether we are ready or not. While it's not obvious or easy what to expect some of the points Harari makes in Sapiens and reinforces in Homo Deus are likely to come true. As always the elites will have power and be able to control how others have access to a better future. If anything, the concentration of power (aka wealth) is becoming even more concentrated.
Perhaps there will be some ground breaking technology that shifts the balance of power, but that is unlikely.
On The Future of Work …
As has been noted by historians, economists, futurists and many others … the way we work and the way we "make" a living are changing. The way we justify and validate our existence as viable cogs in the machine, as providers, as humans is changing.
Will todays Homo Sapiens feel inadequate or be subjugated when Homo Deus takes over?
Onward to Homo Deus …
It is very likely that a "new" version of human will evolve. Not in the traditional sense of evolution. Rather, in the sense, of access to better healthcare. Which is enabled by access to money / funds to make it possible. This access to technology, research, and expertise will allow today's humans (homo sapiens) to request modifications that are beyond the current capabilities of humans today.
Things like, the ability to ward off diseases (truly beat cancer and more); the ability to literally out think the other humans; the addition of bionic enhancements; genetic engineering; and so much more.
There are, at least, two ways this can go:
Better Living Through Robotics, Artificial Intelligence, and Chemistry
Super Soldiers
Access to genetic modification, advanced artificial intelligence, bionic implants, and more will allow the wealthy (whether private or government) to enhance their brains and bodies. Eventually these may become common "modifications" that are available to all. But, as we've seen … those with the power and the funds will always have access to the next generation of research and technology.
Pre-Birth and Post Birth (the definitions of these are changing too)
Initially, these modifications will be after someone is born. But, the technology to modify genes and make decisions about which ones to switch on an off is coming (if it's not already here) and the results will be … Homo Deus.
What do you think?
Ethically and Morally is is right to create Homo Deus?
Can regulations keep up with the onslaught of changes?
Would you submit to biological or physical changes if you could achieve some desired goal – longer life, eliminate cancer, think faster, etc?
Perhaps one of those Future Jobs will include a lot more roles for bio-ethics to go along with all that bio-engineering.
Take the time to read or listen to the books. I'd like to hear your thoughts and interpretations on what Yuval Harari has highlighted. I'm sure you'll hear things I didn't and I'd like to get your thoughts. Ping me directly or comment here.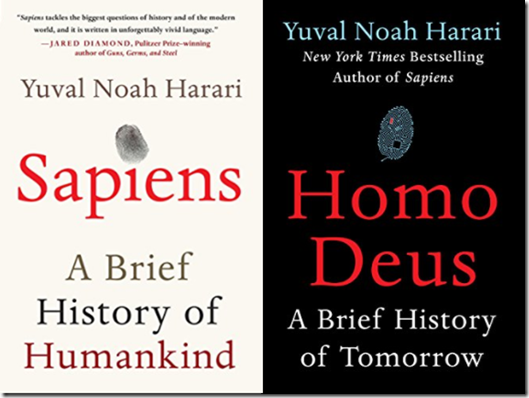 Image Credits: The Gates Notes