Reply
Topic Options
Mark Topic as New

Mark Topic as Read

Float this Topic for Current User

Bookmark

Subscribe to Topic
Level 6 Contributor
The Microsoft Partner Community is Stronger Together
Are you a member?
Membership Has Privileges
Of course, start with the Microsoft Partner Network aka The MPN.
But, there's one more step you should take.
To get the most out of your Microsoft relationships and partnership … Join the IAMCP.
We want you! We are here to help!
Got Questions? Ask us! See the contacts below.
Why Join?
There are a lot of reasons, but to me it's all about the 3 C's Camaraderie, Connection, and Community.
Ride with Us ... The Road to Partner Success is smoother with The IAMCP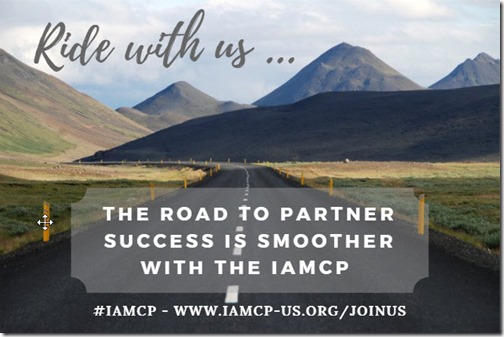 Membership has Privileges (see this post)
Ride with Us ... The Road to Partner Success is smoother with The IAMCP - Join Us.

We also have a very strong Women in Technology team and mission. They are committed (along with a cadre of guys) to insure Women in Technology have a seat at the table and are right up front where they belong.
I mention that guys are involved because we are in this together. Only 20% of the tech workforce is female. We can fix this. When men understand the challenges and are committed to addressing them we all win. Get more details at the IAMCPWIT site.
If you are ready … Join Us! WWW.IAMCP-US.ORG/JOINUS
There are effectively two options for membership (in the USA): (more in this post)
$195 – Tier 1 and and Tier 2 memberships
$0 – Microsoft employees with a Blue Badge
If you are in doubt … attend a meeting, ping me, or ask any of the leaders. Some of them are listed below. We are here to help.
There is a strong international presence too. Check the IAMCP.org site for a chapter in your country. Here are a few of the IAMCP International leaders:
If you liked this you might like:
---
Image Credits: Microsoft (LinkedIn)