Reply
Topic Options
Mark Topic as New

Mark Topic as Read

Float this Topic for Current User

Bookmark

Subscribe to Topic
Level 6 Contributor
You probably know someone with autism.
Partners can make a HUGE difference in the lives of people with autism.
Directly and indirectly by seeing those with neurodiversity for the skills they bring.
Steve Andrews has autism and he freely speaks about it. He has also built a business to help people with autism. You can help him and he can help you. Take a look at this post and if you need help from people that bring a very special set of skills to the table ... consider contacting Steve and either hiring his firm or bringing him in to speak about Rethinking Autism
Rethinking Autism
I had the pleasure of attending a friends speaking event with the same title as this post.
Steve Andrews is someone I met in person recently, but we have been trading emails and talking on the phone for about a year before meeting.
Steve is a Microsoft Alum just like me. Steve is from SoCal just like me. Steve is actively Rethinking Autism and he's got me trying to be just like him.
This was originally posted on my blog.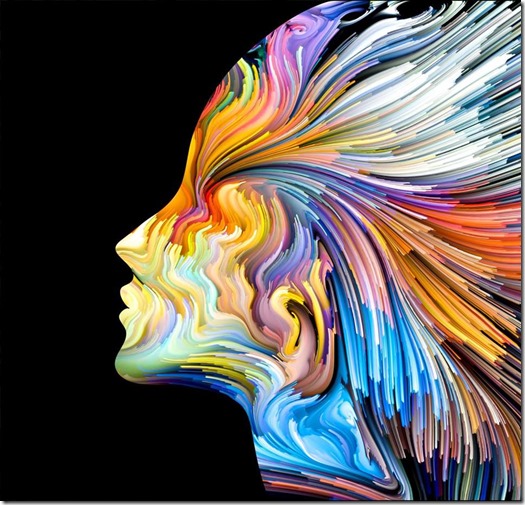 Steve is very candid with where he sits on the spectrum.
And, he's doing something about it.
Not just for himself. He's speaking, he's launched a business, and he's ready to speak with anyone that wants to help people understand neurodiversity.
80% Unemployment (click2tweet)
This is the number Steve shared with us.
80% of the people with autism and other neurodiversity challenges face a significant battle with employment. Or, more specifically, with Unemployment.
Steve is doing something about it. He's working to help people Rethink Autism. He's ready to continue the conversation.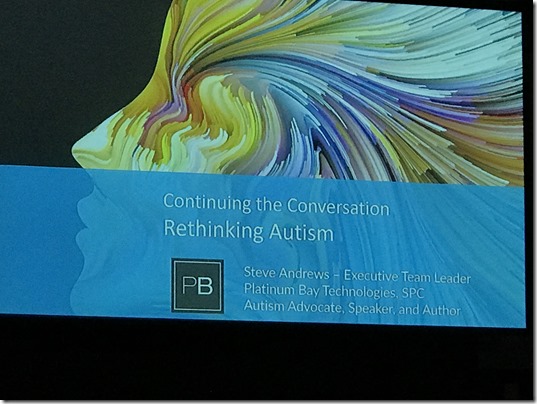 Our host at Overlake Christian Church was fantastic. He asked a few questions as Steve wrapped up. The most important was this:
What do you need?
Steve's answer was pretty straightforward …
We need contracts.
We need companies that are willing to help their own bottom line by helping people in need.
We need companies to take a chance on us. We have shown results. Let us help you.
When done right (even mostly right) there is a measureable impact.
Steve shared specifics about focus, ability to get things done (sometimes in new and unexpected ways), and reiterated the points we see on TV and other mediums about how autism is often represented. He's not endorsing or defending them. Rather he is embracing them and seeking to help everyone with neurodiversity.
He also shared success stories where Rethinking Autism was put into practice at Walgreens, Rising Tide Car Wash, The Israeli Army Unit 9900, and the British Intelligence Code Breakers group. There are a lot more stories like this … some have been told and some are waiting to happen.
Help Steve to get those stories started and I'll commit to getting them told.
My Recommendations – The More We Know!
Microsoft

--- Bring Steve to the Microsoft events … Inspire, Ignite, Envision, and internal events. Microsoft already has diversity elements built into hiring processes. Let's bring that to the field and to the community as a whole.
Salesforce

– Although Dreamforce is over now it would be great to see a D and I track and perhaps an app in Force.com. CEO Marc Benioff continues to lead the way and has spoken about the

sfdc commitment

to diversity and inclusion.
Amazon, Google, Facebook

--- Same as above … bring Steve in.
It's not all about Tech Companies. That's the world Steve and I live in with the IAMCP and Partnering. But, every company can and should consider Rethinking Autism and bring in people with neurodiversity in the their profile. Many companies are absolutely doing this today – Starbucks, Home Depot, Freddie Mac and many, many others. Let's keep the momentum going.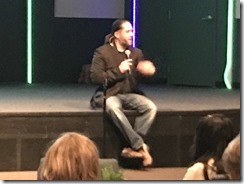 Steve doesn't claim to know everything about neurodiversity, but he does know what works for getting that 80% unemployment number down.
I have known Steve for a while now and I can tell you he is passionate about helping others.
If you think you can help him … bring him in. You won't be disappointed.
He's ready to continue the conversation about Rethinking Autism.
How can you reach Steve?
Steve Andrews - steve@platinumbay.com
Platinum Bay Technologies - https://www.platinumbay.com/
Interview with Steve in The Art of Autism
If you have anything you'd like to add … please post in the comments here.
Together we can Rethink Autism.
---


Jeff is business advisor, mentor and community engagement expert. He brings over 20 years of Channel Sales, Partner Marketing and Alliance expertise to audiences around the world in speaking engagements and via his writing. He has worked for Microsoft, Kodak, and K2.
Connect with him on Twitter @jshuey
Or connect on LinkedIn, Facebook, or Google+
He is a contributing author to Entrepreneur, Elite Daily, Yahoo, US News and to
the Personal Branding Blog with over 250 articles published.