Reply
Topic Options
Mark Topic as New

Mark Topic as Read

Float this Topic for Current User

Bookmark

Subscribe to Topic
Level 6 Contributor
Partnering as a Small Fish is better than the alternative.
Partnering is hard.
Picking the right products or services to build is hard.
Picking the right people is hard.
Picking the right partners is hard.
It's also hard to consider yourseld a Small Fish in a Big Pond
But, that's exactly what Pixar's John Lasseter suggests. It's also why the IAMCP is recommending and pioneering efforts in Partner to Partner (P2P) engagement.
I wrote about this is in detail on my blog ... (originally posted here)
The Little Fish Big Pond Effect
This is an excerpt from something I wrote 7 years ago in Competition is a Good Thing (click2tweet)
Where I mentioned Pixar's Chief Creative Officer John Lasseter and his view for why he SHARED their best practices in the early days.
Simply put, he'd rather be a ... Smaller Fish in a Bigger Pond
In summary, Competition IS a Good Thing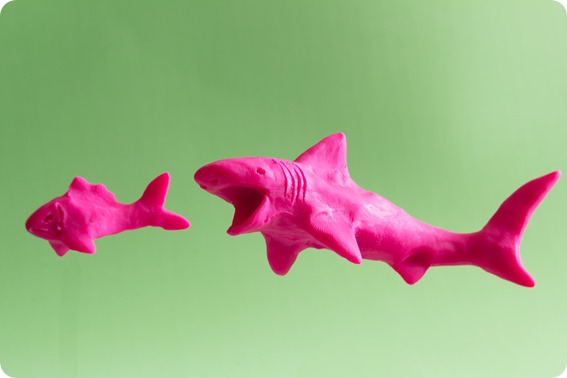 Pixar's John Lasseter on Competition
Source: AirTran Go Magazine – June 2010

http://bit.ly/gUwwuT
This is a quote from John Lasseter in the AirTran Airline Magazine from a few years ago. I have referred back to and used his quote several times since.
He was referring to the competition in his business.
His business is BIG – He is the Chief Creative Officer of Disney Pixar and he brought some of the most memorable characters to life in the movies Toy Story, A Bug's Life, WALL-E and Monsters, Inc (11 feature length animated films).
Pixar's John Lasseter on Competition
His quote got me thinking again and again. I have worked with and for several companies that have been told they are too old to compete or that they are too late to the game. I do think there is an end stage to every business, but I don't think any company I have ever worked for was even close to the end.
I have worked in the KM / ECM world for the past 20 years. There has been a lot of consolidation – which will continue – but the industry is still alive and if anything the rise of Social Media and Cloud Computing will make the Management of Enterprise Content even more critical to the success and longevity of the business. I think it will give rise to what I'm calling Social ECM.
Competition is Good
Should business be a zero sum game?
I think the answer is NO. There might be a few industries where a Zero Sum Game strategy is best for all parties involved. However, I think that is the exception. It seems John Lasseter agrees.
Competition is Good
Competition drives Innovation
Competition keeps Prices in check (for the most part)
My take on John Lasseter's quote is this:
It's better to be a fish in a thriving pond than a (soon) to be former fish in a d(r)ying pond.
What do you think?
Is is better to be the only fish in the pond?
Are there any industries that are better off with no competition?
Have you seen successful Zero Sum Games?
I'd like to hear your thoughts.
Image credits: Pixar, Disney
---
This was excerpted from my post Competition is a Good Thing

Jeff is business advisor, mentor and community engagement expert. He brings over 20 years of Channel Sales, Partner Marketing and Alliance expertise to audiences around the world in speaking engagements and via his writing. He has worked for Microsoft, Kodak, and K2.
Connect with him on Twitter @jshuey
Or connect on LinkedIn, Facebook, or Google+
He is a contributing author to Entrepreneur, Elite Daily, Yahoo, US News and to
the Personal Branding Blog with over 250 articles published.