Reply
Topic Options
Mark Topic as New

Mark Topic as Read

Float this Topic for Current User

Bookmark

Subscribe to Topic
Level 6 Contributor
Melinda Gates is Amazing … Live with Ezra Klein at SXSW
The best podcast I've heard this week is, hands down, Melinda Gates on The Ezra Klein Show.
This podcast was recorded Live at SXSW in Austin. (listen) (watch)
I never worked with Melinda at Microsoft. Although I think we were there some of the same years.
I never heard her speak. Although, I read the Bill & Melinda Gates Foundation Annual Newsletterreligiously.
This time … I heard her. Loud and Clear.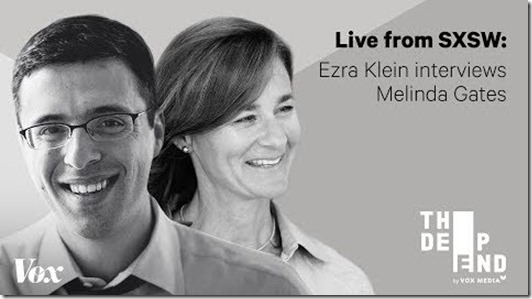 Kudos to Ezra Klein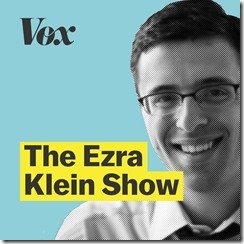 For asking great questions and allowing Melinda to cover so many topics.
A few that stood out included Women Entrepreneurs, Women in Technology (WIT), and Women's Health. These are topics I have focused on for many years too, but I don't have the same access to resources that she and the foundation do. Her ability to command a stage (and a podcast) come through loud and clear.
"If you only have products created by white guys in their 20s, you're gonna miss the mark,"
~ Melinda Gates
I also enjoyed hearing her thoughts on Maize, Mosquitos, and the Micro-Biome.
And, allowing her to share her thoughts on her greatest fear.
And, sharing her thoughts on where she would live and what she would do … if money were no object.
Also, sharing her three favorite books. I've read and reviewed Yuval Harari's books (see below) and have added the others to my reading list.
Kudos to Melinda Gates
Although I have only watched from afar I've been consistently impressed with her ability to bring kindness, clarity, and compassion to the challenges of our modern times. Many of the challenges she and Bill (Gates) address are not all that modern --- access to clean drinking water, access to education, access to medicine to fight old world diseases.
I love it that she puts measurement front and center. Meaning, she specifically talks about metrics. What the impacts are of coal-stoves, adequate medical care for women – including the understanding of birth control and the impact, the modification of maize and mosquitos.
I also love it that they (Bill & Melinda) are taking their parenting very seriously by exposing their kids to the realities of the world.
I heard you Loud and Clear.
In Summary
This is an excellent podcast and well worth the time. It really got me thinking and I'm sure it will do the same for you.
If you liked this you might like …
Image Credits: Vox, Ezra Klein
---