Reply
Topic Options
Mark Topic as New

Mark Topic as Read

Float this Topic for Current User

Bookmark

Subscribe to Topic
Level 6 Contributor
Are you a Microsoft Alumni? We have a community for you!
The IAMCP is a community filled with lots people that have started their own companies and have worked for countless partners and partner types.
We also have a lot of Microsoft Alumni in the mix. Myself included.
Little Known Secret: We have a community for you!
You can post about your business, about your job offers, and a whole lot more.
As with the IAMCP ... we are Calling all Microsoft Alumni … If you aren't a member of the Microsoft Alumni Network yet … take 3 minutes and Join Us!
The Microsoft Alumni Network is all about Alums helping Alums ... AND helping others.
This write up abour the recent Reunion with a Purpose featured Microsoft CEO Satya Nadella and Starbucks CEO Kevin Johnson (who is also a Microsoft alum). While Rich Kaplan emcee'd he had a great opening line about Satya being a "future alum" which got a lot of laughs ... including from Satya.
We also received a copy of the Employee Edition of Satya's new book "Hit Refresh" --- if you haven't read it yet ... take the time. It's a quick and insightful read.
Take a moment to read thru and don't miss the Giving Back. The Microsoft Giving Campaign lives on in Microsoft Alumni and they are recognized as Integral Fellows and Inspired Leaders. See more about them below.
===
Another fantastic Microsoft Reunion with a Purpose is in the books.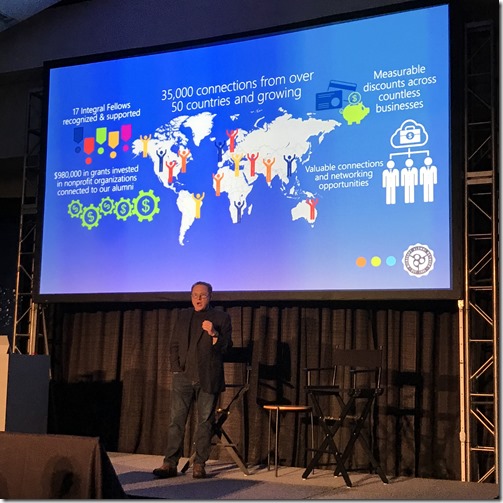 A few days ago a collection of Microsoft Alumni gathered in Redmond and for the first time ever at remote sites to hear Microsoft CEO Satya Nadella speak about his new book "Hit Refresh"
It was a VERY NICE touch for attendees to receive
an Employee Edition copy of Satya's new book.
Kevin Johnson, Microsoft Alum and currently the president and chief executive officer at Starbucks was on stage with Satya and they had a great back and forth banter.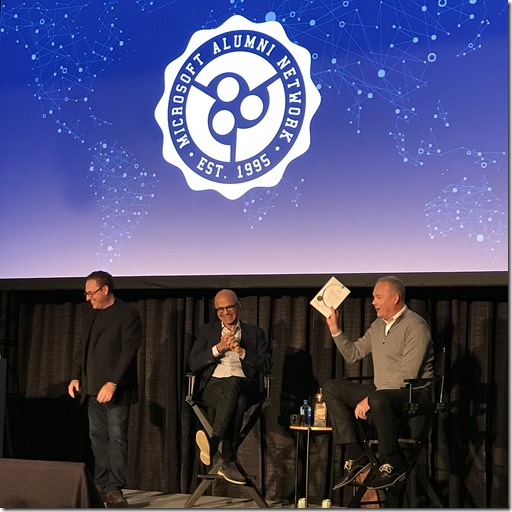 It was great to see these two captains of industry so at ease with each other and with this audience. It's clear … we are THEIR people. And, I for one thank them for their candor and willingness to share their time and thoughts with the Microsoft Alumni Network members.
Satya on Change:
Don't change everything, just change the things that have the most impact.

Why Do Alums Do This?
It's simple. It can be boiled it down to three things, but there is so much more than these three.
Bonding
Shared Experiences
Doing Good (Together)
If you are an alumni I'd like to hear why you stay connected, why you give back, and what we can do to help in the comments. Perhaps you can be the next Integral Fellow or Inspired Leader.
Giving Back Matters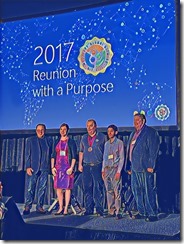 One of the things Rich Kaplan said from the stage and I can concur as I have said the same thing.
Alumni remember the The Giving Campaign
This is where Microsoft employees give back both money and time. A lot of alumni want to reproduce that. And, many have in their own ways.
Some of those giving back are recognized as Integral Fellows, this year was #17. Others are noticed and identified as Inspired Leaders. There is more below about them and on the official Microsoft Alumni Network post.
And, there are countless others that are giving back and getting things done that may not be recognized on stage at the Reunion with a Purpose, but their commitment and willingness to give back is appreciated. Even if it's not on stage.
Tech Matters Too
After all, we are all Microsoft Alumni. It was great to see one of my favorite speakers from Microsoft on stage and sharing with the alumni what is happening in the tech space. Julia White, Corporate Vice President, and all around rock star shared some of the plans and what is available today from Microsoft.
She boiled it down to three big initiatives:
Multisense / multi-device – The Future of Devices
Deep AI – Ultimately, businesses are data first companies
Data centers – Where data resides, access in a timely manner, and securing it
Also, Microsoft's Brad McCabe demo'd some great AI/ML technologies already built into PowerPoint, Excel, Teams, and my new favorite … Paint 3D (available within the Windows 10 Creators Edition).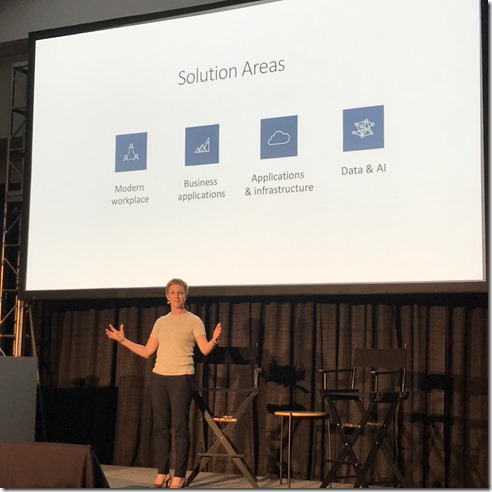 Integral Fellow and Inspired Leaders
Every year the Microsoft Alumni Network identifies and names several leaders that have and continue to make a difference in the community.
This year 4 people were recognized on stage, but countless others continue to give back, engage and make a difference.
2017 Integral Fellow – Kevin Ross
2017 Inspired Leaders – Rikin Gandhi, Kimberly Mecham, and Kevin Phaup.
Watch the videos on the Microsoft Alumni Network website along with the official re-cap of the event.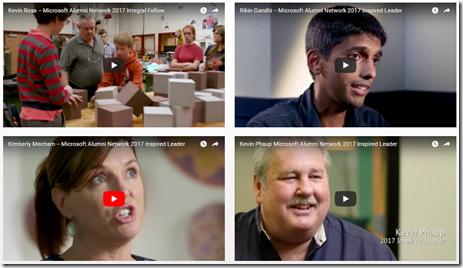 Congratulations to Kevin Ross for being recognized at the 2017 Integral Fellow and to Rikin, Kimberly, and Kevin for being recognized as Inspired Leaders. Your contributions are noticed and appreciated.
Here are a few posts you might appreciate:

Thank you to all of the Microsoft Alumni that made this even possible by being alumni members and also for
Finally, thank you to Rich Kaplan and Marylou Brannan for building an amazing team that puts on this incredible event.
Calling all Microsoft Alumni … If you aren't a member of the Microsoft Alumni Network yet … take 3 minutes and Join Us!