Reply
Topic Options
Mark Topic as New

Mark Topic as Read

Float this Topic for Current User

Bookmark

Subscribe to Topic
Level 6 Contributor
When Former US VP Al Gore visits the Microsoft Campus
One of the advantages of working for Microsoft or being a Microsoft Alumni is having access to amazing events.
Not all of them occur on the main campus in Redmond. But, in truth, many of them do.
I have the privilege and pleasure of seeing some amazing speakers at the Microsoft Outside in events.
This week it was Former US VP Al Gore --- where he spoke about his new movie "An Inconvenient Sequel"
Why is this important to partners?
Because there are a myriad of partner opportunities embedded and surrounding The Green Economy.
Everything from traditional Office 365 and Dynamics 365 solutions to intense data gathering in remote locations. To be stored, processed, and analyzed on Azure services. These services can and will be built by partners.
Yes, that means YOU!
What are you building today for The Green Economy?
btw - whether you believe in Climate Change or not there are countless businesses that will crop up to support the effort on both sides of the conversation. I'm not taking sides here. All I'm suggesting is that if you are a Microsoft partner that you pay attention to the ways Microsoft as a company is adopting ways to run the business in a resource constrained world.
Also, if you are builing things for the Internet of Things (IoT), Virtual Reality, Mixed Reality and Machine Learning --- whether you use Microsoft Hololens or other MR headsets (which are now being developed with an AI chip) now is the time to synch that drone footage, that remote sensor data, and build apps for your customers (even if they aren't ready).
Here is my post about Al Gore's visit -
When Al Gore visited Microsoft … Truth to Power
Some days are better than others.
Yesterday was one of those days.
I was able to hear and see former US Vice President Al Gore speak at the Microsoft campus. This is one of the advantages of being a Microsoft Alumni. And, of course, it's a great advantage of being a Microsoft employee too.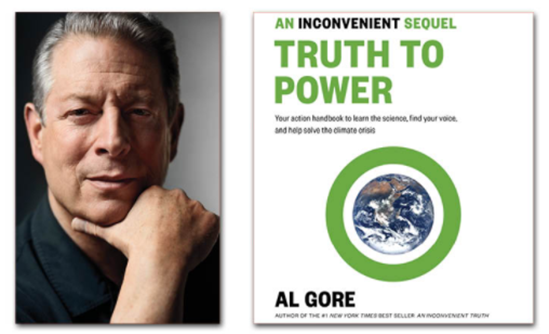 It started off with my former GM at Microsoft, Rob Bernard. Where he stated the obvious yet crucial statement that led us to where we are today.
How to thrive in a resource constrained world
~ Rob Bernard
Rob has been focused on the environmental and green aspects of Microsoft for at least 10 years.And, he did a great job with the interview of Al Gore. Thanks to Microsoft for bringing Mr. Gore to campus. It was a great day to be at Microsoft.
An Inconvenient XYZ
There were references to his first movie "An Inconvenient Truth" and there were references to the new one coming our on Friday, August 4th. 11 years after the first one.
The new movie is called "an inconvenient sequel" and it picks up where the last one left off. It also adds a lot of new information that has come to light in the past decade.
If you are interested in learning more and doing more consider joining the Climate Reality Projectwhere everyone gets training on how to become a climate activist.
What is The Good News Message
Al Gore spoke about the The Green Economy and what it would take on a global scale to make it possible.
He said, these 4 MUST be present and supported on a global basis:
Education of Girls
Empowering Women
Ubiquitous Fertility Management
Continued a reduction in child mortality rates
Note on point 3 the US is faltering bigly. The Trump administration is turning a blind eye on this critical element. Melinda Gates via the Gates Foundation has committed $375M to expand access to contraception.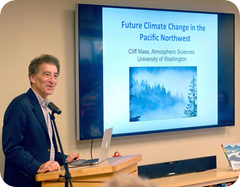 Bonus: It was great to have local weather god Cliff Mass in the audience. In case you aren't from the Seattle area he's on NPR every day or so and he has a deep, booming baritone voice.
He asked about a Carbon Tax Initiative
Cliff's day job is that he is a Professor at University of Washington.
Call to Action
Go see the movie.As Mr. Gore said "If you liked it … Pay It Forward and tell a few friends."
Also, use the hashtag #BeInconvenient
Image Credits: peninsula daily news, Geekwire, Microsoft