Reply
Topic Options
Mark Topic as New

Mark Topic as Read

Float this Topic for Current User

Bookmark

Subscribe to Topic
Level 6 Contributor
Building communities ... one Saturday at a time
How are you growing your community?
Have you attended a SharePoint Saturday event?
Have you attended an Office 365 Saturday event?
Good News ... they are all FREE to attend.
On Oct 28th ... six events would going on around the world on the same day.
Bonus: It was also Bill Gates birthday.
Here is a write up about that day. I was on the Microsoft Main Campus ... and YES ... I DID go to the Treehouse.
Where will I see you on a Saturday?
===
On October 28, 2017 there were six Office 365/Share Point Saturday's going on simultaneously around the world. (click2tweet)
Barcelona (Spain), Twin Cities (Bloomington, MN), New England (Burlington, MA), Ottawa (Canada), Canberra (Australia), and Redmond (WA)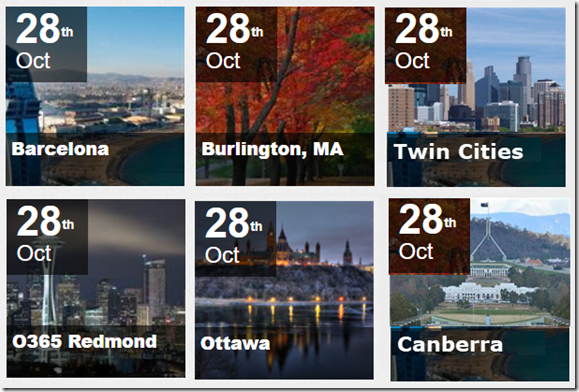 If you follow any of these hashtags you can follow along with the activities on Twitter and other social networks. Or, follow them via their Twitter aliases below.
#spsbcn - #SPSTC - #SPSNE - #spsottawa - #O365SRED - #O365CBR
@spsbarcelona - @SPSTwinCities - @SPSNewEngland - @spsottawa - @O365Seattle - @johnnliu
If you were able to attend any of them you already know. But, if you weren't able to attend you would've seen some of the amazing things happening within the Office 365 and Share Point communities. If you want to know when the next one is happening in your area keep your eyes on the SPSevents site.
Bonus: Oct 28th also is Microsoft co-founder Bill Gates birthday
(great GeekWire flashback from Melinda Gates)
---
Thank you Matt Wade – @ThatMattWade for posting this (see image below too):
There are six #SharePoint/#Office365 Saturday events tomorrow worldwide.
Check out the rest of the calendar: http://icsh.pt/2017Conferences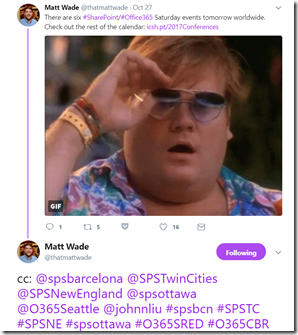 Home of the Mother Ship
I was able to attend the Redmond Office 365 Saturday event.
Kudos to Bo Woronowicz and Roberto Yglesias for organizing the Redmond event. Also to Gavin Barronand Tom Resing for their expertise with the organizing committee. And, although she was traveling the ineffable Erica Toelle also helped make this event happen.
They, along with an army of volunteers, put together an amazing event. You can see details about the event here – including pics of the amazing prizes.
The session guide for the Office 365 Saturday Redmond event. All of the speakers are volunteers too!
The People You See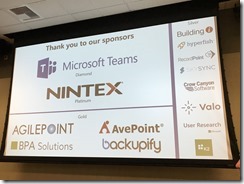 Probably one of the best things about the office 365 and Share Point communities is the people you see. these are the people that literally and truly make the community great. Some of which you saw in my pictures I posted on the day of the event, but a lot of them are not in the pictures or are not seen necessarily in the sessions. There is a great group of sponsors that stay in the expo hall and answer lots of questions.
A BIG THANK YOU to the sponsors. Although everyone is a volunteer … there are costs to running an event that hosts several hundred people. The sponsors make this possible and we thank you.
A few people I did get to spend some time with include:
Eric, Rick and Nikkia flew in from their home states to spend time with the community. They took time way from their families to spend with this family. For this … I thank you! It is noticed and appreciated.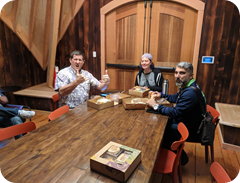 A few of the locals that I saw and had the pleasure of chatting with included:
They took the time out of their busy schedules to break away from what turned out to be a gorgeous day in the Pacific Northwest. The picture on the right is The Treehouse on the Microsoft campus. These are pretty new and they seem to be quite the tourist (or at least employee) attraction. We grabbed our lunches and headed up to the treehouse to spend a few minutes outdoors. It was worth it. Thanks Gavin for the pic.
LOCALS MAKE IT HAPPEN
The locals that made it are just as important as well as the Microsoft employees that make the time to share their time and expertise. It's always great to see old and new friends. It was great to catch up with Mike Ammerlaan, Chaks (aka Chakkaradeep Chandran), Mark Kashman, Tom Resing, and it was great to see someone new to me … Charles Sterling present on SharePoint, Power Apps, Flow and Power BI.
This Community Gives Back (click2tweet)
I have been involved with this community since it's inception.
The people are the community
The community that keeps on giving.
One of the things I noticed today is that there are a lot of new faces. This is a good thing. There are also a lot of familiar faces. And, there are a lot of new and different companies. Whether it's companies they started or companies they joined to help continue to grow their business, their careers, and continue to give back to the community.
Additional Reading on Community:
Teams is on a Tear (click2tweet)

In case you missed it … there was an entire track dedicated to Microsoft Teams. Thanks to Microsoft's Karuana Gatimu for putting this effort together. As she noted a few times this is a test run to see how best to get the word out about Microsoft Teams and how to insure people can get the latest info, build solutions, deploy them, and manage them.
Additional Resources from Karuana:
Thanks for bringing in additional experts to help get the word out, including Audrie Gordon, Nishan DeSilva, and Larry Jin. Their expertise around Power Apps, Governance, and DevOps were very much appreciated.
A Huge Round of applause for Brian MacDonald, CVP of Microsoft Teams Engineering for supporting this event and making this event possible on the Microsoft campus. And, as always, thanks to Dan Holme for his continued support of the SharePoint / Office 365 efforts.
Microsoft Teams is on a Tear
We noticed this is other sessions today too. Hyperfish's Jeremy Thake shared some great real-world experiences with Bots and he started with an example using Microsoft teams.
More Session Goodness
I don't want to take away from the other amazing sessions and speakers. There was talk about Bots, Graph, OneDrive and of course conversations around SharePoint and Office 365. Here is the list of all the sessions - session guide for the Office 365 Saturday Redmond event.
If you attended a session … what did you learn?
Share your thoughts in the comments … of on the social feeds … use the hashtag #O365Sred so we can track them and take action as necessary.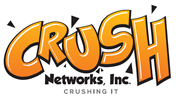 Did you attend the SharePint event? In Redmond … they do this the night before.
This time it was organized by the Crush Networks team. They always know how to find the parties … and they also know how to throw them too.
Six Cities Simultaneously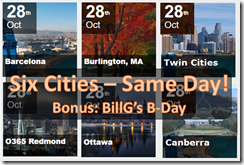 As noted above there were six, count 'em SIX, SharePoint / Office 365 Saturday events going on. For all the people that attended them … I hope you learned a lot. For all that organized, spoke and kept the trains running on time … THANK YOU!
For all the sponsors that help make these events possible. THANK YOU!!
And, for all that attend these events … THANK YOU!!!
You make this community great.
Image Credits: Gavin Barron, O365SRed, SPSevents